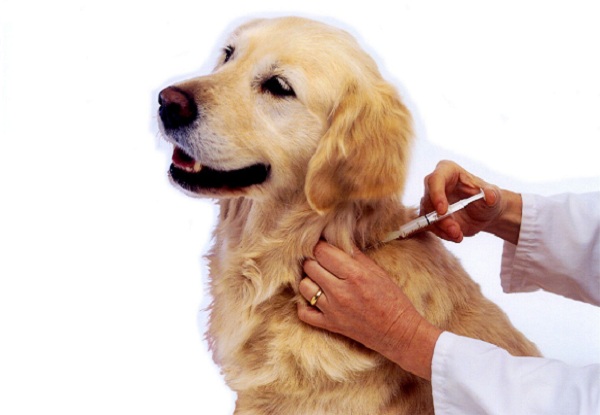 You may want to ask your vet to test your dog instead, to see if that's really necessary. It seems from research that was conducted by surveying vets on their vaccination protocols, many of them would consider testing dogs antibody levels rather than giving routine vaccinations. In addition, the survey found that around 53% of vets practiced tri-annual vaccinations (every 3 years) rather than annual immunizations.
Here's an abstract of the study below …
Survey of veterinary surgeons on the introduction of serological testing to assess revaccination requirements

Heayns, B.J., Baugh, S. Veterinary Record 2011: doi:10.1136/vr.100147: Journal of the British Veterinary Association 27.11.11.

Despite the discussion of the use of serological testing in canine vaccination protocols, no study has been published that investigates the opinions of the veterinary profession regarding the use of the test to assess re-vaccination requirements in dogs. This paper presents the results of a study designed to fill this research gap which was completed in 2009.
Veterinary surgeons were asked to complete a questionnaire on different aspects of canine vaccination and the introduction of serological testing to determine re-vaccination requirements. Of the 448 questionnaires distributed, 243 replies were received (54.2 percent) and of these, a significant majority (169/243; 69.5 percent) of respondents would consider introducing serological testing.

An average of 53.5 percent of respondents practiced tri-annual re-vaccination for the core diseases. A significant number of respondents (86/140; 61 percent) who placed low importance on vaccine overload would consider introducing serological testing into canine vaccination programs (P=0.002).
Anti body testing (also called titers) may turn costly, depending on your vet. It can cost up to $300-400, depending on what tests you are interested in. A more cost effective option is to ask your vet if he is willing to draw blood for a small fee and send the blood samples to Hemopet in California. Sending blood sample sounds like a hassle, but is really simple as mailing off your Christmas gifts. The lab will provide you with an answer within days and you will save HUNDREDS OF DOLLARS!
Hemopet also offers other blood testing services including comprehensive thyroid panels, food allergy testing, comprehensive vaccine titers.
Comments
comments