"Once you understand the basic theory behind the functions of enzymes and the essential need for them, then you will better understand the raw meat diet philosophy. It was once believed that because enzymes can be produced by the body that there could never be a deficiency. It has now been established that the number of enzymes the body can produce in a lifetime is limited. Therefore, it becomes critical to supply the body with an outside source from raw food diets that have not had the enzyme supply destroyed by heat. All it takes is 118 degrees F. to destroy the enzymes in food. Nature designed the food to have sufficient enzymes to digest the food when it is ingested. Limit the enzyme supply and you reduce the life expectancy.
By Monica Samson:
I have some great ideas to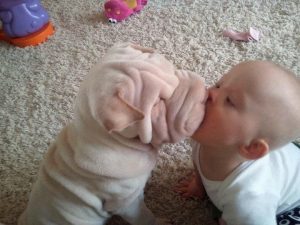 share with you, so you can spend your day with your most loyal pal. Here is a list of things that are sure to bring a smile to your raw-fed companion:
For crafty dog moms and dads that would rather make something from the heart, how about making your pooch a homemade dog toy? Aimee from IrresistiblePets.net shows you how to make a rope toy out of your old t-shirts in under 15 minutes.
Tasty Treats
Of course every good dog deserves a treat, right? And with the current threat of contaminated pet treats still being investigated by the FDA, it's more important than ever for pet parents to choose safe, natural, USA-made treats for their loyal companions. We recommend feeding raw treats and freeze-dried treats that are made and sourced in the United States. Whole Life Pet Treats contain single ingredients and are available in a variety of flavors.
Another great raw-diet-friendly treat for your dog that also acts as a wonderful teeth cleaner and breath freshener are elk antler chews. These chews are much safer than synthetic nylon chews and rawhides which are often made in China and contain artificial ingredients.
Antler Chews
For young puppies and older pets with delicate teeth, give a split antler – one that has been cut in half – to prevent dental damage.
While any one of these gift ideas are sure to please your pet, there are of course so many more things that you can do to show your dog how much you love them. Take them out for a long walk, go to their favorite park, pamper them with extra hugs, kisses, and belly rubs.
"Monica is a mother of 2 kids and 2 tabby cats. Though her parents never allowed

pets

growing up, she has always been an animal lover.
Comments
comments